State Proof : Alaska Printmaking Invitational
International Gallery of Contemporary Art
Anchorage, Alaska 2019
Icebergs + Owl : Paper Collage, 2017
Icebergs + Owl is the culmination of three months work at the McColl Center for Art + Innovation. After working and thinking about ideas of migration I had generated piles of prints. The prints were run with a blind emboss and later included chine collé and elements of color to represent a variation in the landscape. The process of creating many prints without considering them to be finished allowed me to deconstruct them. Without hesitation, I began cutting everything up, knowing that the parts would be something greater once reconstructed. All of my ideas on migration, climate and landscape began to weave together both conceptually and visually. Fragments of wings, topo maps and falling rain and snow were stacked upon each other to create these object-like collages.
The process of construction, deconstruction and reconstruction is at the heart of adaptation. This work presents a dialogue addressing current political and social issues facing not only the north, but the world at large. The displacement of people around the world, the threat of climate change on migratory patterns and inevitability of the melting arctic are all layered in Icebergs + Owl.
Migration Series: Blind Emboss + Chine Collé, 2017
This body of work was produced at The McColl Center for Art + Innovation in Charlotte, NC. After making the long journey south and reflecting on home, I began thinking about ideas of migration. I thought about the process of relocating to live, work and interact with others. This created a space to associate human behavior with the natural world. How do other species move with such grace? It is seemingly so natural for them. For humans, at least myself, it is never easy. Transition always lends itself to unfamiliar surroundings and uncomfortable moments of having more doubt than usual. The question of place always arises and the practice of adaptation inherently becomes a part of our subconscious routine.
Migration Series : Ink + Watercolor, 2017
The collection of watercolors is a documentation of time. It is a study of how color affects our association to seasons how weather affects movement, how we remember our favorite views and how migration is a process by which all of these variables are considered.
We move sometimes by choice, sometimes not. We move to warm up, to cool off. We move to work and to play. Birds, caribou, other species in our natural world, move for survival. We all adapt.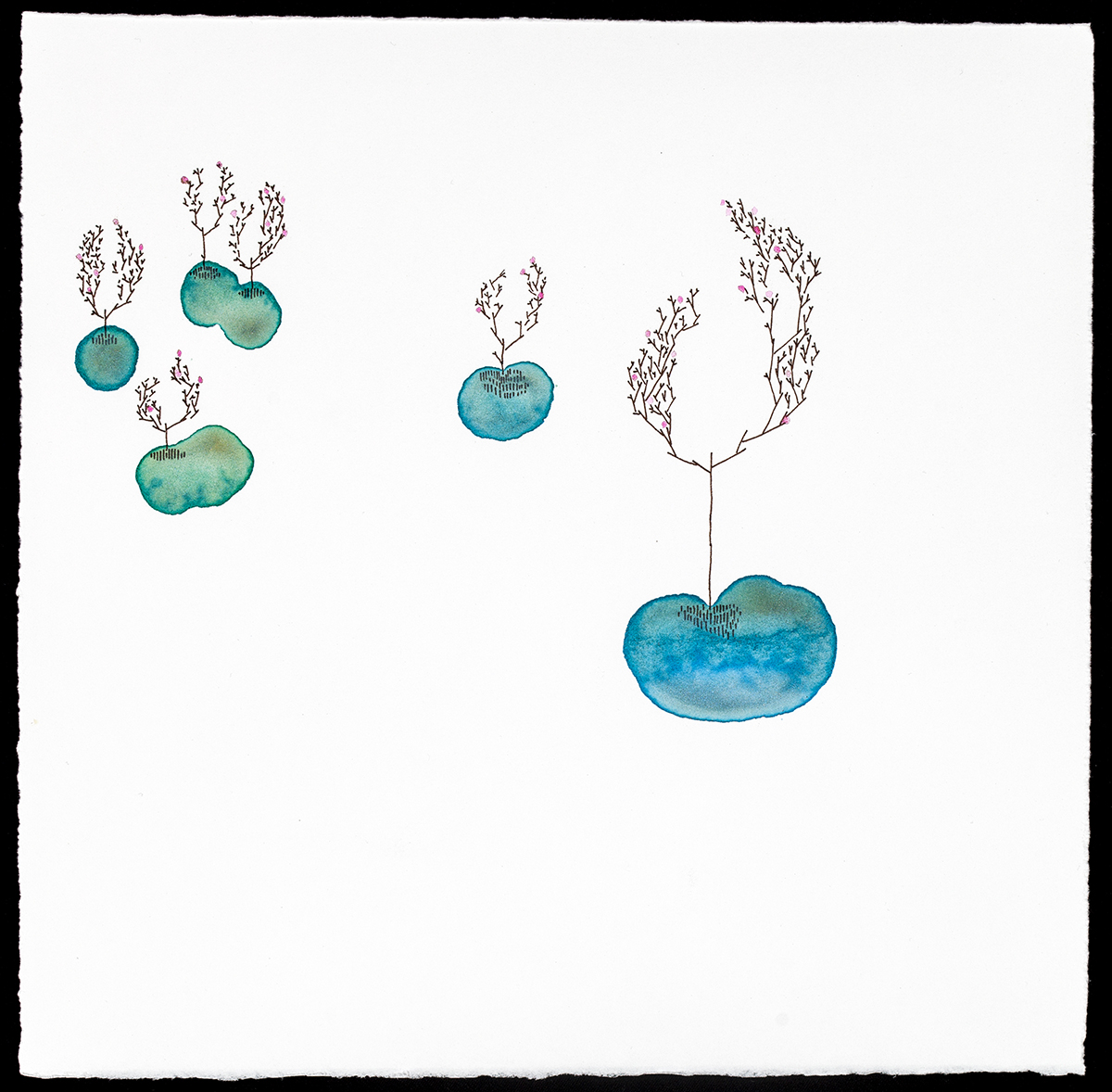 Melt : Ink + Watercolor, 2016
Underneath is unknown. It is stiff and dark, but we see it changing, constantly shifting from frozen to liquid to frozen again. The shape and textures of the surface tell us what season it is and how much light we are receiving. Our feet respond to snow, ice, slush, gravel and then overgrown grass.

I find the change from frozen to liquid to be the most interesting because we feel then a great sense of where we really are. It is during this time that we begin to feel life coming back.
It is also perhaps the most difficult time. Our surroundings are dirty, our romantic landscape is peppered with black snow banks and trash is exposed. We have missed the light and are eager for the long summer days.

Revealing what we don't see, what is mysterious yet so important to our physical world, what sometimes we forget about yet are always affected by. Making a less than perfect transition beautiful again, watching it melt.